When Liberty Jane Meets Toms
Oct 01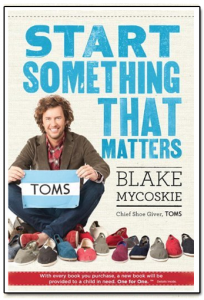 So we don't know what it's like where you live, but up here in Seattle Toms shoes are all the rage. Our 13 year old daughter first told us about them. Then we became big fans as we started to learn about their business model.
Then we bought the book – Start Something That Matters by the founder Blake Mycoskie. It is like a perfect expression of business meeting charity.
Now we have a new goal. To "Tom-ify" our business.
We've had Liberty Jane Gives Back for a long-time now, but it's not as well conceived or presented as the Tom's Buy-One-Give-One model. So our goal is to take the lesson's Blake shares in his book and improve our effort. To be clearer, and more focused in our storytelling. For us – it will mean starting a charity focused on empowering seamstresses in desperate places – and have it grow alongside Liberty Jane Clothing. If you haven't enjoyed Toms shoes or eyewear yet, or seen the book, then you should check them out.
And if you have enjoyed Toms, then do us a favor, share some ways in which we might "Tom-ify" Liberty Jane Clothing / Liberty Jane Patterns. We're open to suggestions.
Jason & Cinnamon Miles