Liberty Jane Pinterest Contest 2012
Nov 10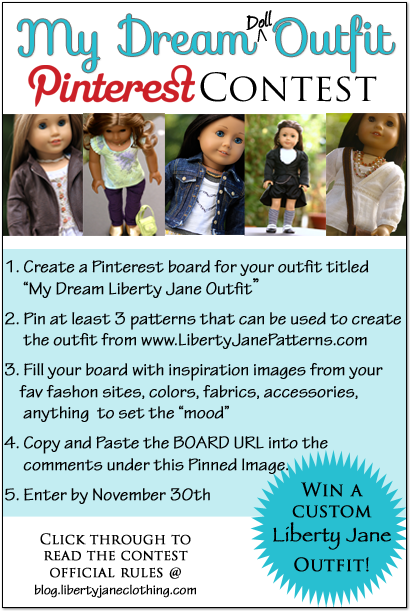 2012 "My Dream Outfit" Pinterest Pinboard Contest Details:
Hi everyone, here are the official rules and guidelines for our Fall 2012 My Dream Outfit Contest held on Pinterest. If you have any questions, just post them as a response to this blog post.
Here we go:
No purchase necessary. A purchase will not increase your chances of winning.
Many will enter, only a few will win.
Void where prohibited. Pinterest user guidelines apply.
Contest Dates: The Contest starts 11/10/12 and Ends 11/30/12 at Midnight (Pacific).
Announcement Of Winners: The winning board will be announced on or before December 8th, 2012.
How To Enter: Via Pinterest by posting your newly created "My Dream Liberty Jane Outfit Board" 's URL into the comments under the PINNED CONTEST IMAGE.
(Do not enter here on the blog)
To enter simply create a mood board of your design idea. Pin at least 3 Patterns from Liberty Jane Patterns website that can be used to create the outfit. These can be clothes, hats, shoes, purses, ect… Then fill your board with inspiration images. These can be from any website, pic's of real clothing items. Show us what you want! Pin images of accessories, fabrics, colors, ect…
You can enter as many unique boards as you'd like, but make sure each board entry only has 1 outfit idea.
By entering the contest, you are acknowledging that Liberty Jane Clothing creates unique designs for retail purposes in an ongoing way, and our future design work, and any design name, isn't restricted to exclude anything similar to what you've submitted. In other words, you can't get mad at us if our future designs, (or names of outfits), are similar to an outfit idea you submit. We do not run these contests to get design ideas. Any similarity between our future work, and your contest entries will be coincidental.
Judging Criteria: This is a skills based contest. Entries will be judged on the following criteria:
1) Overall Presentation – Does the board capture the Mood /Vibe of the outfit.
2) Design Elements – Your pins need to include all parts/details of the outfit.
3) Required Pins – 3 Patterns from the Liberty Jane Patterns website must be included on the board.
4) Board Title – Board must be Titled "My Dream Liberty Jane Outfit".
Bonus Points: Give your outfit a unigue name and fun description in the decsription box!
Prizes:
The Grand Prize Winning designer gets their outfit made for their 18 inch American Girl ® Doll for free!
2nd place will receive a 50% off coupon for either Liberty Jane Clothing or Liberty Jane Patterns.
3rd place will receive a 25% off coupon for either Liberty Jane Clothing or Liberty Jane Patterns.
Notification: Winning designers will be notified via a tagged comment on Pinterest (under the contest image). We will also make an announcement through our newsletter, just to be sure we connect with the Pinterest user. A few weeks after communicating with the winning designer, we will post an image of the newly created custom outfit of the winning design.
Delivery Of Prizes: The winning designer will need to provide a street address to Liberty Jane Clothing, so we can mail the prize. It does not need to be a home address, it can be a work address for example. Shipping will be paid by Liberty Jane Clothing. There is no expense if you are the winner – it's all really free. The coupon codes will be sent through email directly.We will collect tis information through email cinnamon@libertyjaneclothing.com
If you have questions, simply post them as a response to this blog post.
The Liberty Jane Team