6th Day Of Christmas – Win Shoes!
Dec 30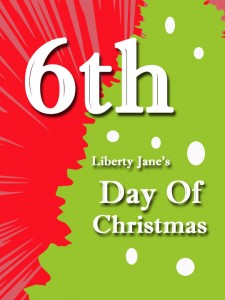 Hi everyone,
Welcome to Day 6 of our 12 Days Of Christmas celebration!
[Giveaway Ended - Congrats to Pam!]
Today we are giving away … 6 (AG Doll sized) pairs of shoes in cute little bags and boxes to one lucky winner. The winner will receive a pair of brown fringe boots, brown slouch boots, tan fur lace up  boots, tan furry boots with buckles, lavender tennis shoes, and black and white oxford style mary janes. Each pair of shoes comes in a cute Liberty Jane bag or box.
This would make any AG Doll Happy!
To enter simply respond to this post in the comment box below and complete this sentence:
"My favorite pair of shoes are [insert here] because [tell us why] … "
Wondering what mine are? My favorite pair of shoes in winter are my cozy UGGS and in summer my new crochet TOMS!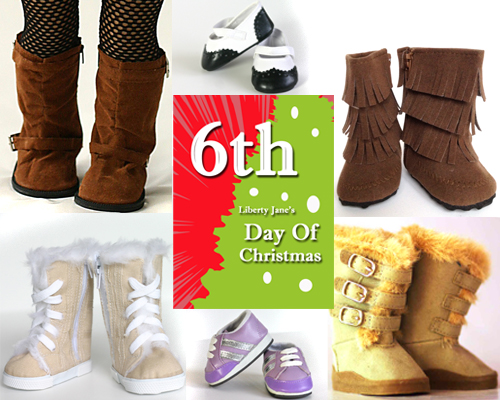 Comments must be left (on this blog post) by midnight (pacific), today, 12/30/2012.
One entry per person.
No purchase necessary, void where prohibited.
The winner will be chosen randomly from the comments received and contacted through the email provided in the comment.
We will choose a winner and modify this post tomorrow to let everyone know who won.
Okay, good luck, and if we've forgotten anything we will modify and/or update this post as needed.
Merry Christmas,
Cinnamon, & The Liberty Jane Team
Ps. Thank you to everyone who participated in yesterday's giveaway. The winners of yesterday's give-away were Lora, Wesley, Margaret, Emily, and Jennifer. Congratulations!!