Get to Know Outback Libby!
Nov 05
In the Spring of 2010 Liberty Jane launched their International Collection – introducing four exciting characters: Euro Libby, Malibu Libby, Tokyo Libby, and Outback Libby. Twice a year, in the spring and fall, the outfits designed for these characters are released and sold at auction in the LJ Ebay store, either as limited edition sets sold in small quantity or sold as OOAK outfits. Many of these designs have been published as pdf sewing patterns, which are available to purchase exclusively at Pixie Faire.
One of the most popular outfits designed was Outback Libby Faraway Downs. This dress was the first in the Outback Libby series and is also one of the most popular patterns sold!

Over the last several years there have been new outfits and cute anecdotes in the listings giving a glimpse into the Outback Libby character. Most recently, we designed and sold the Killara outfit at auction and the Killara dress pattern is now available too.  We've had so much fun creating these outfits and it has naturally led into creating a heartwarming introduction into her story in Book 1 …

Our first short story, Outback Libby: Journey to Faraway Downs, introduces Libby to the reader. Where is she from? How did she arrive in the Outback? What is her life like? Who are her friends? What is her passion? Can she survive without internet access? It's a fun adventure style fictional story available on the Kindle platform for instant download. You can access it by Kindle or by using the Kindle app on a mobile device or your computer.
We'd be honored if you picked up a copy and read it… and let us know what you thought (a review on amazon is super helpful)! We have more books in the works, for this series, and to introduce the other characters from the International Collection.
Now you can make the outfits, read the book, and create a fun playtime or collection display experience!
We really hope you enjoy this new story and want to thank you for your ongoing support of Liberty Jane Clothing!
-Cinnamon
GIVEAWAY!
Now's your chance to win an outfit from the Outback Libby Collection!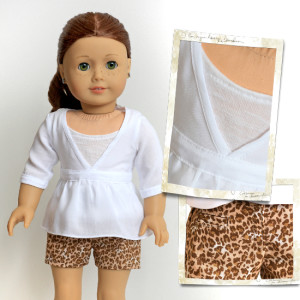 Libby is wearing The Outback Station outfit at the end of the book… the outfit is currently available in the Liberty Jane Clothing Store as a buy it now set. We are going to give away one of these outfits to one lucky reader!
To enter the giveaway you just need to log in to your facebook account, or create an email log in the contest box below. You will see the entry options once you are logged in, each type of entry is worth a point.
Like Us On Facebook
Tweet about the book
Comment in the comment box below "When I think of the outback, I think of…"
Pin the book on Pinterest
To pin the Outback Libby Book, simply click here and pin it from the amazon listing.
When you've completed each entry simply click the green box in each drop down.
We will notify the winner through email on November 26th