10th Day of Christmas – 2014
Jan 03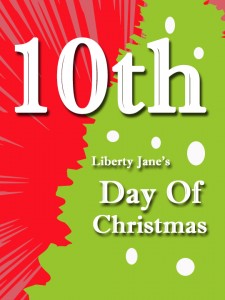 Hi everyone,
Welcome to Day 10 of our 12 Days Of Christmas celebration!
Today we are giving away something to everyone! I'm often asked where I find fabrics, notions, wigs, shoes, etc. So for today I wanted to share 10 resources from my personal list of places to shop for doll crafting and sewing supplies… Enjoy!
Cinnamon's Top Ten Places to Shop:
Britex Fabrics  - Located in San Francisco, CA – This is my absolute favorite place to shop for fabrics! The store is just so beautifully laid out, all 4 floors! The fabrics are displayed by color, from floor to ceiling, there's one floor just for trims and buttons, and my favorite is the remnants section up on the top floor! You can shop online, but if you ever get the opportunity to visit, you simply have to go and give yourself plenty of time to soak it all in! We were down in CA for the holidays and I was able to stop in and stock up a bit, be sure to check back tomorrow for the Day 11 giveaway, I'll be giving away some beautiful fabrics!
Zipper That Doll – This is the place to get 5 and 6 inch sippers, as well as thin velcro, and tiny buttons.
CR's Crafts – Tiny belt buckles are hard to find, but this store has a variety to choose from. Use these buckles for the Shibuya Jacket and the Motorcycle Jacket.
Ruby Red Galleria – Does your doll need a hair makeover? This is the place to find great replacement wigs for you American Girl Doll. You can easily peel off the wig that's on your doll and replace it with one of these great looking wigs.
Elastic by the Yard – Here's a great selection of Fold Over Elastic, You can use this to make dance leotards for Isabelle GOTY 2014, from the LJC Free swimsuit pattern! It also works great to make cami style tanks from the strappy tanks top pattern.
Doll Clothes Store – Imported shoes and boots manufactured in China, We've used these in the past to complete some of our outfits…
Fabric.com  - They have a great selection of a variety of fabrics and will send you swatches to sample first.
Marshal's, Ross, Target, Nordstrom Rack - This may seem like an odd place to have on the list, but I am always scouring the clearance racks at stores like this to find great fabrics at super discounted prices! The key to realistic looking outfits for dolls is all about the fabric choices!
Paper Mart – looking for packaging for your outfits? paper mart has a large variety of boxes, bags, and tissue to get you started!
Claires – (find it in most mall's across the US) This is a fun place to shop for tiny items, like mini backpacks, lip glosses that look like doll size soda cans, and discounted jewelery that can be turned into a variety of doll accessories!
There isn't a contest for today, but we'd love it if you shared where you find fabrics, trims, notions, or other tiny doll treasures with the rest of us, so please leave a comment and let us know…
Happy New Year,
Cinnamon & The Liberty Jane Team