11th Day of Christmas – 2014
Jan 04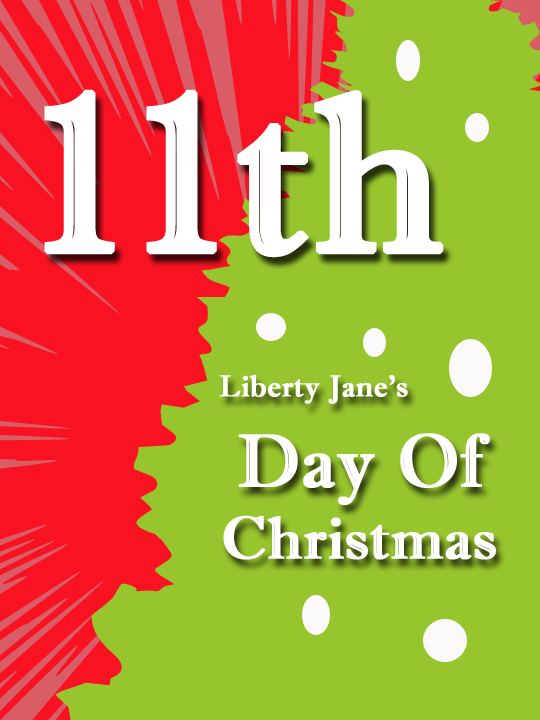 Hi everyone,
Welcome to Day 11 of our 12 Days Of Christmas celebration!
[Giveaway Ended - Congrats to Hiedi, she won the Britex fabrics and trims!]
I think I may have mentioned this before (haha!) but…. Britex Fabrics in San Franciso is my favorite place to shop!
So, Today we are giving away … 11 things I've picked up from this fabulous store to one lucky winner!
Giveaway includes: 6 fabrics and 5 trims. Fabric includes 1/4 yard pieces of a floral silk, floral print rayon, 2 black knits, purple polished cotton, and a sparkly ice blue/silver special occasion fabric. Trims include a 1/2 yard each of a grey pleated grosgrain and black crochet with ribbon detail;  and 1 yard pieces of  teal lace, thin black crochet, and a irredesent purple trim.
Fabric pieces are big enough to create ooak pieces for your American Girl Doll (or Ellowyne, Bfc,Ink. etc) Most Liberty Jane items can be made form a 1/4 yard of fabric.
In the second collage image below, you can see a variety of Liberty Jane Clothing Pieces made using fabrics found at Britex Fabrics, most of the pictured items are the same fabrics/trims included in this giveaway! The recent Killara Dress was made from fabric that I got at Britex, unfortunately it was all used up, so that one is not included in this bundled giveaway.

Here are a few example of how we've used Britex Fabrics in Liberty Jane Outfits!

To enter simply respond to this post by commenting below and complete this sentence:
"I sew [ or knit/crochet]  primarily as a  [insert hobby or for my home business] on average, I spend… [how much time/hours in a week]…"
Come on in and see the store… I apologize for the shaky iphone video



Comments must be left (on this blog post) by midnight (pacific), today, 1/4/2014.
One entry per person. No purchase necessary, void where prohibited. The winner will be chosen randomly from the comments received and contacted through the email provided in the comment. We will choose a winner and announce it in tomorrow's post to let everyone know who won.
Happy New Year,
Cinnamon & The Liberty Jane Team