Meeting Esther Mkandawire
Nov 11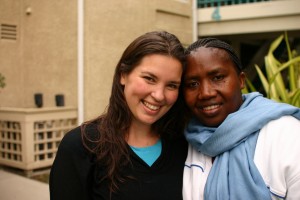 On Friday we were so incredibly blessed to have a chance to meet Esther Mkandawire. Esther is the director of the Needs Care Center in Lusaka Zambia, and is our partner working to coordinate the Sewing & Tailoring Training Program. She told us that of the first 20 graduates, 10 have found full-time jobs, and the remaining 10 are working together using the sewing machines to make and sell items. So all of them have had their lives incredibly helped.
She has big plans for the next sewing & tailoring course…The dream is to have 20 more ladies go through the program soon, and this time they'll add a knitting machine, so they can make sweaters. Sounds fun, right? So keep buying those patterns & Liberty Jane clothes – a portion of all our procedes go to support Esther's work.
Thanks to each of you for your ongoing prayer & support for her ministry. It's an amazing project.