2013 – 12 Days of Christmas!
Dec 24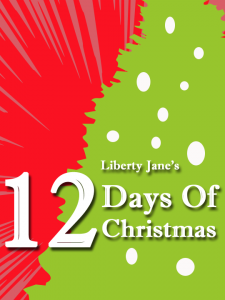 Hi everyone,
We're super excited to announce the 3rd annual Liberty Jane 12 Days of Christmas! Our event will run on the traditional days – December 25th through January 5th…
So here is what we will do, on each day from December 25th through January 5th we are going to reveal a special prize, gift, or reward. They will be announced on this blog, and also posted on Facebook. (No purchase necessary, void where prohibited). These will be short-term prizes, designed for just 1 day each. So, be sure to set your alarm, bookmark our blog, and remember to check back each day. We will strictly enforce this – no extensions – no exceptions – no bonus extra time. So don't miss out.
The big reveal will happen each day mid morning, (Pacific Time).
To see the big reveal – Just check back here on our blog…
(You can also subscribe to the blog rss feed and receive an email when each post goes live, to do that just enter your email in the box on the side bar.)
We hope you enjoy our 12 Days Of Christmas Celebration. We are incredibly grateful for your ongoing support and wish you a happy holiday season, and a terrific new year!
All the best,
Cinnamon & Jason
& the whole Liberty Jane Team