7th Day of Christmas – 2013
Dec 31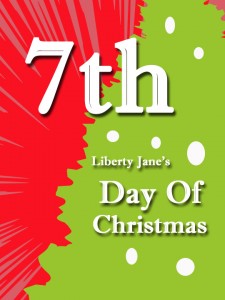 Hi everyone,
Welcome to Day 7 of our 12 Days Of Christmas celebration!
[Giveaway ENDED - Congrats to Carol, Paige, Olivia, Madison, Tiffany, Lori-anne, and Jackie!]
Today we are giving away … 7 copies of the Liberty Jane Outback Libby Bomber Jacket PDF Pattern to 7 lucky winners! Along with the pdf pattern each winner will also receive a PDF copy of the new Outback Libby: Journey To Faraway Downs Ebook.
This design was first introduced as part of the Outback Libby: Woomera outfit in the Fall of 2012. We've recently made this jacket avaialble as a ready made item in the Liberty Jane Clothing online store, but have had a hard time keeping it in stock! The coat is super cute and goes together pretty easily, I'm sure it will be a great addition to your dolls wardrobe! The pattern has just been published and is available to purchase exclusively through Pixie Faire!
Since it's New Years Eve, we thought it'd be fun to hear how you like to celebrate…
To enter simply respond to this post and complete this sentence:
"My New Years Eve plans include [insert here] … "
Comments must be left (on this blog post) by midnight (pacific), today, 12/31/2013.
One entry per person.
No purchase necessary, void where prohibited.
The winners will be chosen randomly from the comments received and contacted through the email provided in the comment.
We will choose a winner and announce it in tomorrow's post to let everyone know who won.
Okay, good luck, and if we've forgotten anything we will modify and/or update this post as needed.
Happy New Year,
Cinnamon & The Liberty Jane Team
Ps. Thank you for participating in the Day 6 Giveaway…[ Congrats to Alexis, she won the 6 pairs of doll boots!]